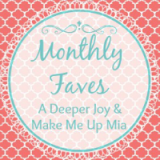 So excited to join up with
Montly Faves
, a new meme I discovered recently at
A Deeper Joy
.
Wonderfully Strange August Weather
August in Texas is supposed to be hot...relentlessly, horribly, hot. But somehow we still got a few days in the 80s! How did that happen? Nevermind...I'm not going to question it. I'll just be grateful and enjoy anymore wacky wonderful weather that comes.
Homeschooling
We decided to homeschool our youngest this year. He just had a horrid time in KG last year, in spite of having a good teacher. We decided to try homeschooling where we could give him more attention, and so far I am loving it.
One example of what I love: we were working on "Skittles Math," something my husband came up with where we use skittles as manipulative and along the way get to eat some. Half way through my son noticed that there was a little X-Box symbol on the Skittles package, which he thought looked like a metal Skittle. So, he started telling me how he thought if you ate the "X Skittle" it would turn you metal. And like many times, this grew into a little story, so we stopped math, took out our composition book, and wrote it down...
(He wrote the first few words and I helped him with the rest.)
That's the kind of flexibility I just love...where you can capture their attention while their interested. We went back and finished math later, but got to write this down while it was on his mind.
(Update: If you want to follow more of our homeschooling journey, visit my new blog
Imaginative Homeschool
)
Lego Kids Fest!
I won two tickets to Lego Kids Fest! FUN. The Dallas Convention Center is HUGE. It look us like 15 minutes of walking just to get from where we entered (near the Cattle Structure) to where we ended up. Lots of building, some romping through the largest pile of Legos I've ever seen, and a little crying when we had to go.
(And On a More Trivial Note) The New Orange Sauce at Ghengis Grill
Ghengis Grill is my husband's favorite restaurant. I have not always been so thrilled with it. To me, the idea of a restaurant is NOT cooking your own food, and while yes, they do cook it for you, picking out the ingredients myself was just a little too close to cooking for me. I'm a recipee Gal (or I used to be), and wasn't the type to even know what would taste good together. But after long experimentation, and quite a few meals that I just hated, I found a mix at Ghengis that worked for me. Well, it just got BETTER. I've been adding like a cup full of mandarin oranges to my "mix" to try to make an orange sauce, and now they have one. Combined with my massive mass of mandarins it just tastes orangemazing (too many puns? nah). I mixed it with my usually sauce toppings (so, 1/3 honey soy, 1/3 teriaki, and now, 1/3 orange sauce. YUM). Other items in my mix are pineapple, steak tips, broccoli, bamboo shoots, sprouts, cabbage, peppers and onions, and those lil bitty corns.
So, what's one of your faves from August?